Here is our test and review of WP Rocket, the best caching plugin, created to speed up WordPress websites in the simplest way possible. WP Rocket is a French extension. More than a million websites have already installed it. They benefit from its very complete services and enjoy its great ease of use.
Price : 49 €
---
WP Rocket : General presentation
WP Rocket is a premium plugin, therefore paying, cache plugin. The caching system speeds up the loading of your website pages, because it stores on the server the pages already loaded, which allows it to load pages much faster by avoiding the need for PHP compilation.
Caching is an extremely important aspect of website optimization. WP Rocket is considered by many to be the best caching plugin for WordPress because of its ease of use and additional features.
WP Rocket acts on the server cache, as well as the browser cache. Since its inception in 2013, it has been enhanced with new features that help increase the performance of your site in a variety of ways: HTML code minimization, delayed loading of Javascripts and images, CSS and JavaScript file minimization and concatenation, and more.
WP Rocket has the huge advantage of being accessible to beginners. No need to be a webmaster, know how to code or master computer jargon, a novice can easily configure it.
Few WordPress caching plugins can beat WP Rocket in terms of performance, ease of use, support, regular updates, and additional features. On the other hand, it is more expensive than its competitors. However, if you're looking for value for money, this price is justified by its top-notch performance.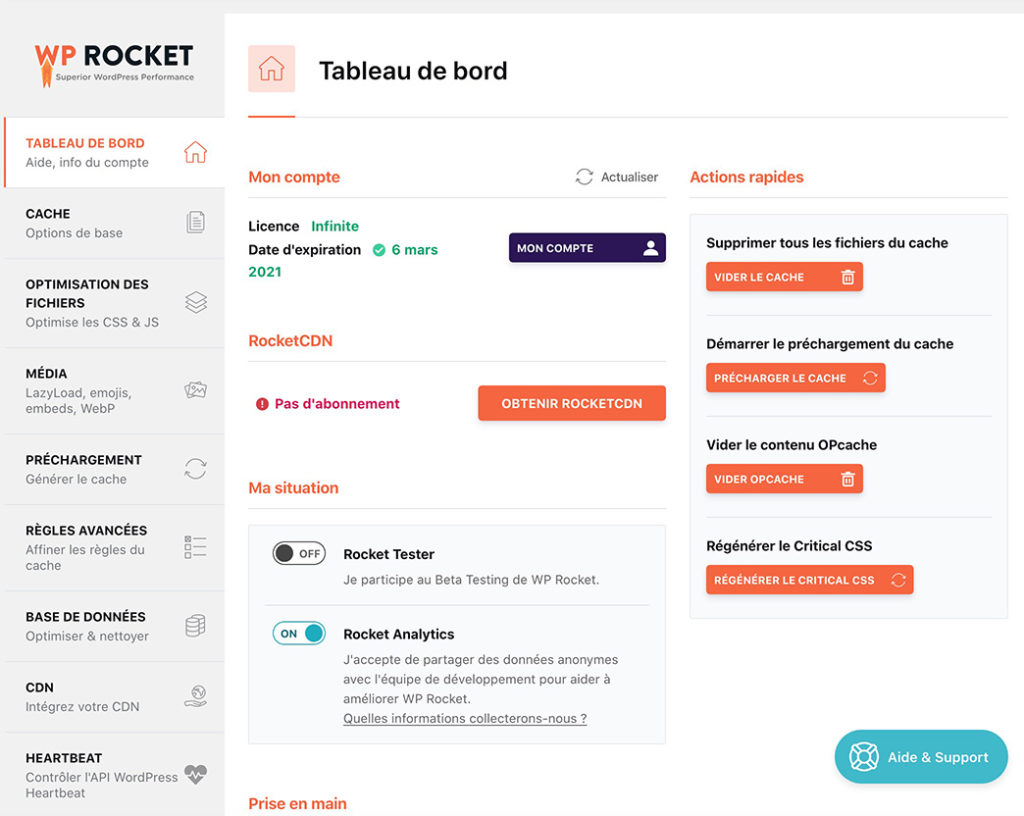 WP Rocket pricing and licensing
WP Rocket offers three rates. The license is rented to you for one year during which you have access to support and updates. Once the time elapsed, you will receive an email inviting you to renew your license for which a discount is proposed to you.
WP Rocket will continue to work after the license expires, but support and plugin updates will no longer be available.
You have the choice between the year-long license of :
49 € valid for 1 site ;
99 € for 3 sites;
249 € for an unlimited number of sites.
You have a 14-day money back guarantee.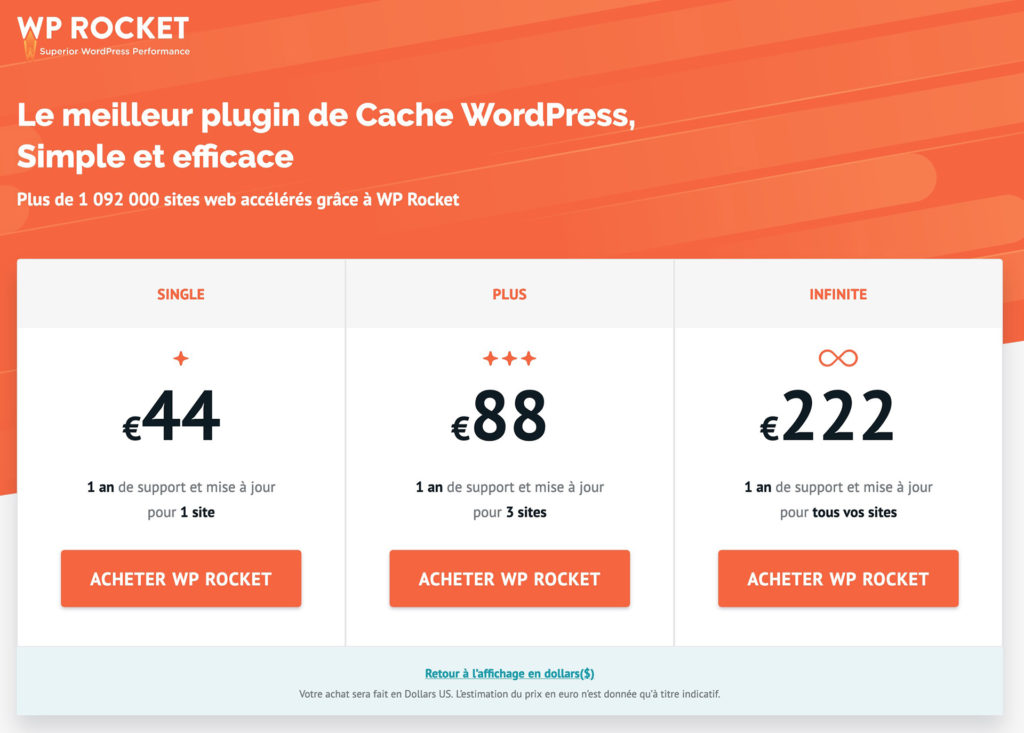 WP Rocket features and settings
WP Rocket is an agile plugin that adapts to all types of WordPress sites, whether they are showcase, ecommerce, mono-language or multi-language.
1 – Quick Setup
WP Rocket stands out from other WordPress caching plugins by the simplicity of its installation and configuration.
Once you have paid for your plugin, you will receive a download link to retrieve the .zip file. You download it, unzip it, and then upload it to your WordPress. You will "add the extension", "install" and "activate" it. As soon as it is activated, it will start caching your pages automatically.
Then go to the list of all installed plugins. Find WP Rocket and click on "Settings" below it. You also have a shortcut to your new plugin in the panel on the left side of WordPress. From there, you can access all the options for configuring caching, file optimization, media loading, pre-cache, database optimization, image optimization, and more.
2 – Page caching
Page caching is the most basic function of WP Rocket. A site's cache stores the content of a selected page when a user first visits it. When that same visitor revisits that same page, the site cache recalls the stored content and loads it much faster than when the user first visits.
To configure caching settings with WP Rocket, go to the left panel, in the WP Rocket settings area and click "cache". This allows you to change the settings for mobile caching, user caching, and cache lifetime.
Advanced caching rules allow you to set up page exclusion, URL cleansing, and more.
3 – Browser Caching
With browser caching, the static files of a web page are stored in the browser (Firefox, Google Chrome, etc.). Once the visitor revisits this page, the static files do not need to be reloaded, which speeds up the loading time. WP Rocket uses caching rules placed in the .htaccess of your website. It uses the mod_expire to specify the caching time for each type of resources (jpg, css, js …), the mod_deflate for compression and the mod_header to modify the file headers.
4. Minification and concatenation
WP Rocket also reduces the size of your CSS, JavaScript and HTML files thanks to the minification. It is an additional way to reduce loading time. But be careful when you enable WP Rocket's minification and concatenation options because it could break your website. Perform thorough tests of your site after activating these options.
5. Generation of the critical path CSS
One of WP Rocket's optimizations is to place all the CSS files in the footer so that the browser can display the page without waiting to load these resources. The problem with doing this is that your site will appear without style the time to load the CSS files. WP Rocket has set up the generation of the critical CSS path allowing to place in the header the style of the elements at the top of your page.
6. Database optimization with WP Rocket
Unlike many other caching plugins, WP Rocket also allows you to clean your database to reduce its size. You can set up a schedule that starts the operation automatically according to the deadline you set, or you can do it manually.
To configure the database optimization settings, go to the database optimization section. At the very bottom, the "Schedule automatic cleanup" option allows you to schedule daily, weekly or monthly database cleanups. You will be able to remove obsolete items, automatic drafts, junk mail, spam, unwanted comments, and other items by checking their boxes. Once you have set the settings, click "Optimize".
Be careful to back up your database as any cleanup is irreversible.
7 – Lazyload support
Lazyload literally means "lazy load". It consists in loading your elements (images, iframe…) only when they appear on your screen, as you scroll through the page.
The more images you have on your page, the longer it takes to load. Rather than loading all the images at once, lazyloading saves you time by only loading them if you continue browsing.
You can enable or disable lazyloading for images, iframes and videos in the "Media" section. You can also enable/disable emojis and embeds to save loading them if you don't use them.
8 – WP Rocket and ecommerce website
Many caching plugins are not compatible with e-commerce plugins like Woocommerce, which causes all kinds of problems for visitors.
Because these plugins cache all pages, including the shopping cart, checkout and account data pages, visitors cannot see their updated shopping cart. WP Rocket is fully compatible with e-commerce plugins such as Woocomerce, Easy Digital Download, iThemes Exchange, Jigoshop and WP-Shop. All Woocommerce pages are automatically detected and are not cached.
9. WP Rocket, WPML compatible plugin
WP Rocket is also compatible with translation plugins such as qTranslate, Polylang and WPML.
10 – Other features
Other features of WP Rocket include :
image optimization (requires the Imagify plugin)
GZIP compression ;
compatibility with the CDNs on the market;
the preloading of the site map;
Pre-loading of the cache memory;
Google font optimization;
delayed loading of JavaScript ;
DNS pre-loading;
mobile detection;
compatibility with Google Analytics, Facebook Pixel,
Varnish, Cloudflare and Sucuri.
Our opinion on WP Rocket
If you want to speed up your website, the WP Rocket extension is an excellent choice. There are free WordPress caching plugins available, but for a topic as important and sensitive as caching, access to support and all the additional features of WP Rocket are huge advantages.
More than just a simple caching extension, its additional features such as Lazyload, image and database optimization provide you with comprehensive and high-quality optimization. Your site becomes lighter and faster and your visitors enjoy it more and come back to surf on it. You lower your bounce rate and increase your Google Page Speed rating and thus improve your natural referencing.
WP Rocket is designed for both novices and experienced users, and its creators pay special attention to its creators, who are committed to constantly improve it and offer updates two or three times a month. These updates eliminate bugs and constantly improve its performance. You also have the guarantee that your extension remains compatible with the most recent version of WordPress.
If you really need to find a negative point in WP Rocket, it's that it doesn't offer you a free trial, or a free version with reduced functionalities. So you can't test it to get an idea. However, you still have the 14-day money back guarantee.
WP Rocket remains THE cache plugin that you can buy without fear, because its price remains more than reasonable for the many services it provides.
And what is your opinion about WP Rocket ? Do you use it frequently or have you turned to another plugin ?
Nos experts se tiennent à votre disposition pour parler de votre projet.
Related Posts